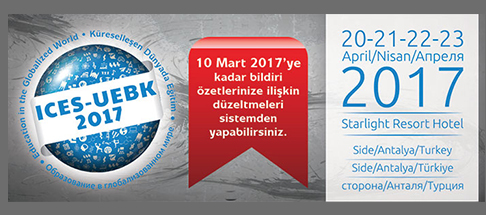 26th International Educational Sciences Congress
Blacksea Technical University, National Educational Associations and Pegem Academy collaborated for the 26th International Educational Sciences Congress (ICES/UEBK-2017), that took place in Antalya on 20-23 April 2017, which had Sebit as one of the sponsors.
The congress main title was "Education in a Globalizing World," and local as well as foreign educational experts shared their experience and scientific studies. Workshops were organized about teachers training and education.
In addition to invited speakers and workshops, posters and conference speeches were presented, as well as an International Joint Exhibition.
Teachers who wanted to attend the congress, but couldn't travel to Antalya on those dates, had the opportunity to follow the speeches, workshops and sessions at the Blacksea Hall through live broadcast from the Vitamin Teachers Portal.